Pamela And Shantal

's Fan Club site!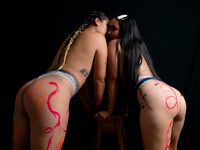 Welcome to my Fan Club! This is my place to connect and share with all my favorite fans. Members get a 5% discount on my shows and VODs, plus I can give you free Members Only shows and you'll show up in my room in my special fan font color.
Nuestros fetiches Date: 07/29/20
We love to lick our feet; taste them and appreciate them what do you think? In our shows we offer variety of fetishes visit us and share a hot and exciting moment by our side ðŸ'‹ðŸ~~ðŸ~ˆ ...
Read More